Review in Arts magazine Bijutsu Techo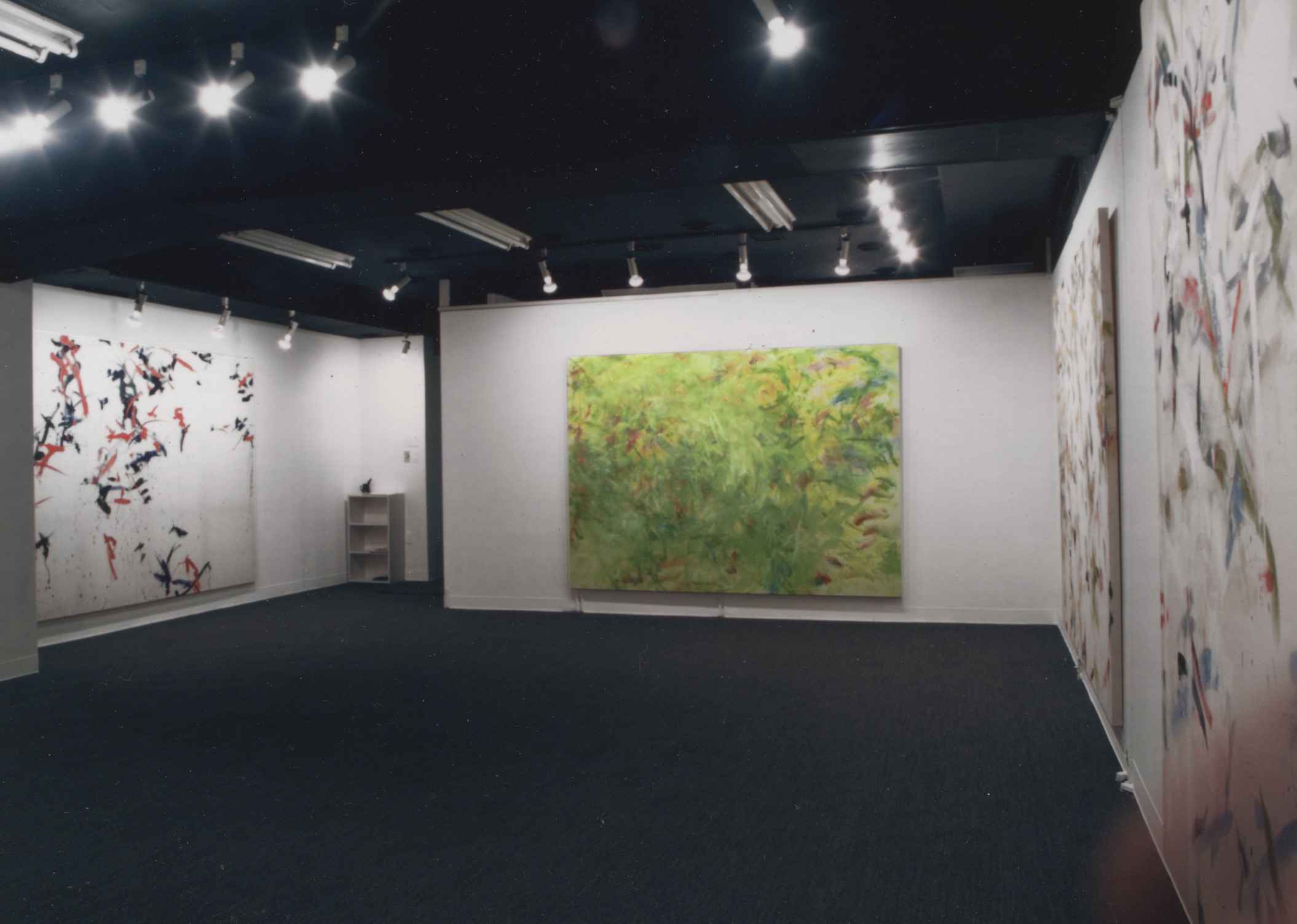 In Junko Wada's "working process" there is none of the forcing, technical or metaphysical, that can often be found in the works of artists who stick to two dimensions. Perhaps this unforced quality is due to the process of destruction and reconstruction of color and form, the orthodox elements of art. The only vehicle for the coexistence of destruction and reconstruction is the bodily freedom of the artist. Certainly the whole process of her work enables the viewer to form neither a subjective nor an objective position, but gradually it absorbs the viewer entirely.
The 'struggle with mimesis,' which has been an artistic problem since Cezanne, has become an even more serious issue for tableau artists. Currently when there is no subject for mimesis, it is not easy to convey the deep spontaneity in one's work to a third person. Junko Wada, however, has accomplished this while retaining a mild asceticism. Although it may seem obvious, one should be reminded of the infinite possibilities of tableau work by viewing the working process of Junko Wada.
Bijutsu Techo, October 1983
In der "Prozessarbeit" von Junko Wada gibt es kein Zwingen, weder technisch noch metaphysisch, wie man es sonst oft bei Künstlern findet, die zweidimensional arbeiten. Vielleicht ist diese Freiheit von Zwingendem eine Qualität, die aus dem Prozess von Zerstörung und Wiederherstellung von ursprünglichsten künstlerischen Elementen Form und Farbe erwächst. Die einzige Methode Zerstörung und Wiederherstellung zusammen zu bringen liegt in der körperlichen Freiheit der Künstlerin. Sicher ist, dass der ganze Prozess dem Betrachter nicht gestattet weder einen objektiven noch einen subjektiven Standpunkt einzunehmen, er absorbiert den Betrachter als Ganzes.
Der 'Kampf mit der Mimesis', der seit Cezanne ein künstlerisches Problem ist, ist für die Tafelmalerei ein noch ernsteres Thema. Gegenwärtig ist es nicht einfach, bei der Abwesenheit eines Subjekts für die Mimesis, tiefe Spontaneität Dritter im eigenen Werk zu erwirken. Junko Wada jedoch gelingt dies durch eine milde Form der Askese. Auch wenn es offensichtlich erscheint wenn man Junko Wadas Arbeitsprozess betrachtet, sei man an die unendlichen Möglichkeiten der Tafelmalerei erinnert.
和田淳子の作業には、まずもって平面に拘泥する作家の作品にしばしばありがちな「作業プロセス」が内包する技法的.精神的世界の強制がない。たぶんそれは、形態や色彩といった正統的エレメントを破壊させつつ回復させようとする試みであるからであろう。破壊ー回復を同在させる唯一の条件といえば、作家の開放された身体以外になかろう。確かにこの作業の全体は観る側の主体ー客体を拒み、いつしか観る者の身体をも零度に回収していくようである。
セザンヌ以後の「ミメーシスとの葛藤」は、タブロー作家にとってますます重要な課題として内包せざるを得ぬものである。言い換えれば「対象なきミメーシス」というべき現在にあって、第三者の眼差しに常に投げ返すようなモメントを埋め込むことは容易ではないのであるが、和田は軽々とした禁欲さを保ちつつそれを克服しているといえる。自明の事柄とはいえタブローによる
無限の可能性を改めて想い起こさせた作業であった。
高島直之(美術ジャーナリスト)美術手帖 点評 1983 October
Naoyuki Takashima